I've long believed that secretly, most likely, the #Clintons and #Obamas still despise one another, and for very good reasons. In late 2007 philanderer John Edwards' hopes of a presidency were being dashed in full view of the public, as news broke of his ongoing affair and love child with new age videographer Rielle Hunter on the 2008 presidential campaign trail, while his wife of 20+ years was dying of terminal cancer. The way had suddenly been cleared for another democratic front-runner. Hillary Clinton was now seizing that moment as her own.  She was ready to make history as the first woman president in United States, and she had her years as First Lady in the 1990s and as New York senator behind her, a solid platform of experience.  All of the wretched rest of it she was quite sure had been pushed far enough under many many rugs that it would never surface again. [ That was a miscalculation. Some of us are older, wiser, and angrier than ever at the fraud which is being perpetrated from the center of American politics in DC, that place which is supposed to belong to the American people, that place which is now an utter den of thieves. ]
Out of the apparent blue shoots a meteoric Barack Obama, neophyte senator from Illinois, who had been in the Senate for so little time, he had no voting record to speak of for anyone to examine. What most of the American public didn't know [ and mostly still don't ] was that Obama had secretly been tapped by the hidden Illuminati elites behind the NYC public elites to replace the now discredited family man John Edwards as democratic front-runner in the 2008 election, moving Mrs. Clinton from "presumed nominee" in her own mind to the sideline seat on the campaign trail. Of course Mrs. Clinton would have none of it, and there ensued a bitter battle for the DNC nomination that placed Clintons and Obamas in square opposition. Media power mogul Oprah Winfrey helped tilt the deciding verdict when she endorsed Barack Obama for president on a campaign rally stage in South Carolina to roars of applause, after which he won the state in a decisive victory that began his straightaway climb to the DNC nomination. The black vote swung to Obama en masse. Hillary Clinton was sidelined, the rattlesnake coils of bitter enmity between the two families now solidly set.
So it strikes me as peculiar, eight years later, that 2016 presidential candidate Hillary Clinton, now older, more haggard, more bitter than ever, more defiant than she ever has been regarding her many past crimes, is building her entire presidential candidacy on the promise to the American public that she will continue to advance uberliberal policies set forth in the Obama administration. Why would Mrs. Clinton say or do such a thing? What possible mammoth 'favor' do she and Bill owe the Obamas, some possible repayment for emotional blood money spent, that would cause them to make such a promise, in return for Obama's help in getting the Clintons back into the White House again for the third time? It's well known that Bill Clinton believes the Obama presidency to be a monumental failure. I tend to agree.
How do political families who hate each other with such fervor manage to cooperate to keep the White House under total Illuminati control from election to election? We news bloggers ponder such things. Were the Clintons and Obamas told by hidden higher-ups to 'play nice or else' for the sake of public appearances as the 2016 election season approached? What happens when the blood feud spills over again and they forget they must play the game out in public? Just exactly how distasteful is it for Barack Obama to promote Hillary Clinton for president this year, lest she defeat swerving odds and arrive in the White House yet a third time, ready to utterly erase all evidence of Obama's eight years there. I know this is what would delight Bill the most. Bill's made it well known in the past how he loathed Barack Obama.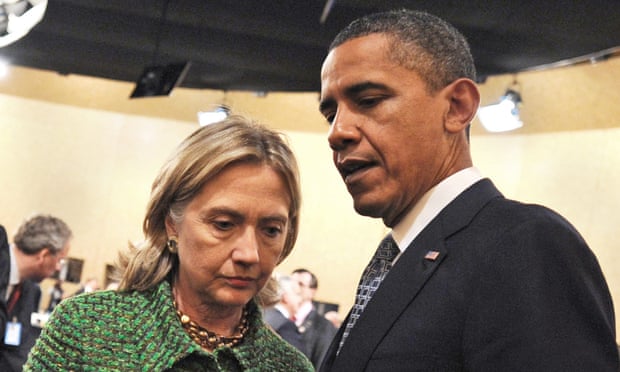 Only the very rare Donald Trumps and Ross Perots in our country ever dare to challenge the hidden elite's ironclad oligarchy. Both men are brilliant albeit quirky self made billionaires who can run expensive political campaigns fully self-funded for the most part. Both men made it a point of pride that they were not bought and paid for by hidden special interests and NWO puppeteers. Perot threw in the towel early on in his own populist campaign to win the presidency in 1992 and to tackle the national debt. His family, specifically his daughter's life was threatened. Trump has prevailed thus far in the 2016 primaries, but every evening's news broadcast brings a fresh assault on the man's intellect, ability, his achievements, fundamental character and his capability to do the job of president. Each newscast carefully omits the fact that Donald Trump, in his stellar career as a businessman and entrepreneur,  has had a hand in running more than 500 companies, yes, I stated 500+ companies as either investor or CEO, all without messing up his famous head of hair.
After what Donald Trump has achieved in his lifetime, running the country would be more like a fun and invigorating hobby for him in retirement, than anything else. He's nearly massively OVERQUALIFIED to serve America as president. But to hear these awful faux-news broadcasts from the alphabet networks, he's a laughable buffoon. Never has such a highly capable over-achiever in America been portrayed with such sustained vehement vitriol, canard and libel, night after night after night, by the ongoing psychological operation foisted upon the American public, mislabeled with malice, as "news."
By contrast Hillary Clinton hasn't had a "straight job" in more than 30 years, since the infamous early days of her murky partnership with Rose Law Firm in Arkansas, where she screwed her way in using the tragic Vince Foster to gain position. Mrs. Clinton has absolutely no idea of what goes on in the streets of the America she so boldly claims she can lead. She will be a merely adequate president at best, an ongoing slow motion train wreck of indictments and horrifying corruption at worst. Her trail is very clear. It shines like a sickening oil slick behind she and Bill, going all the way back to the ugly Arkansas days of death, philandering affairs and other petty coverups she and Bill emanated as they clawed their way out of Hillbilly hell to Washington DC.
Vince later blew his own head off when Mrs. Clinton cut him off after she and Bill arrived in DC fresh from their election win in 1992. The truth behind the scenes in American politics is an ugly ugly thing in contrast to what is snipped, edited, spun, buffed, polished then sold to the American people each evening.  Someone somewhere still believe that "we can't handle the truth." Boy, have we got news for them.
They [Illuminati media crime cartel ] do whatever it is they need to do, then send out the stamped scripts to American news desks to whitewash it all. Below are some peculiar video reports regarding the Clintons and Obamas – just odd little telltale moments, more revelations. I'm still trying to figure out why Hillary Clinton wants to run a presidency that is basically Obama Part Three, after everything. Just who has an allegorical gun to his or her head, and why?