5.25.2016
There's a huge elephant of omission in America's living rooms this summer. I'll cut straight to the chase: Hillary Clinton's presidential campaign has practically NO popular interest. She can't draw a crowd of more than 500-600 people, if that, no matter where she appears. Thus, she is appearing in public less and less. Her people are constantly engaged in the activity of trying to HIDE the fact that no one is showing up at Hillary rallies, by having less and less rallies. She just declined to debate Bernie Sanders again in California, an important swing state for gaining her final delegate counts, a few days ago. Odd but true.
Have a look at the posted video clip, [top ] then compare it to video clips of Donald Trump's campaign rallies [below]. His crowds are literally hundreds of times larger than Hillary's. One would think this would be front page news, wouldn't you? Not one alphabet news organization will report these urgent facts to the American people, among whom are millions of undecided voters who deserve to know the truth.
Hillary Clinton is the "designated Bilderberg Cabal's choice" of the international Illuminati dynastic crime cartel, you know that same old crowd that has been buying up currencies, creating wars and financing both sides, ruining the banking system and profiting wildly from it since at least the late 1700s. They now own and control 95% of the banks of every nation in the world, fulfilling one of their early patriarch's anthems "Give me control of the currency of a nation, and I care not who makes the laws." Or some such.
These same people, their family dynasties and their heirs, now own 95% of all media outlets in the United States, so the only truth squirting out between the cracks is the distilled internet moonshine of news bloggers like me, citizen journalist videographers, and people like Micheal Savage and the ever-screaming Alex Jones. Glenn Beck fell off the world a few years back and broke his head. He doesn't make a bit of sense anymore.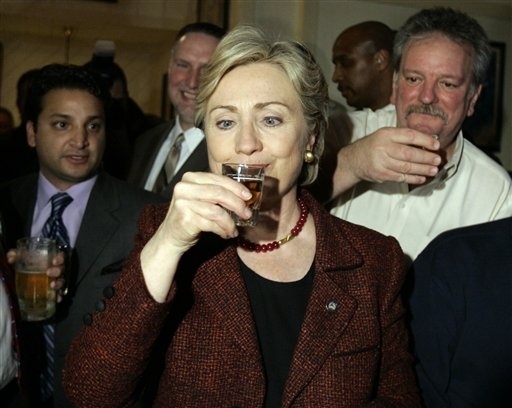 For our "professional news reporting" people in America to delete such colossal facts as what is NOT happening on Hillary's 2016 campaign trail tells me they are gravely concerned at this point that she really cannot beat Donald Trump. Will the crime cabal actually take the final step and deny Trump the nomination this summer in Cleveland? Or will they step off into the abyss of dire civil unrest by just acting like the cowards they are and have him killed? Because Hillary is an incompetent drunk and Bill is senile. Neither Clinton is fit any longer to hold the highest office in the land, if they ever were.
You're not being told the truth about these political campaigns. Trump is creating a movement by the sheer groundswell of his popularity. He didn't set out to 'create a movement'  – it's just spontaneously taking place. And it's getting bigger every month.
In fact, the Donald Trump 2016 presidential campaign phenomenon is the absolute BIGGEST unreported blacklisted news story in American political history. There should be entire primetime documentaries dedicated to what's happening out there in middle America vis a' vis Trump. But you're not going to see this incredible history in the making, because we don't have a national news media that has the courage to report the truth to the American people anymore. They are under strict orders from the NWO / UN crime cabal to censor the facts about the phenomenal rise of Donald Trump and the millions upon millions of Americans who love and support him, and want him to be our next president.
By contrast, Hillary's on the ground campaign support is practically non-existent. Here are some more clues.
Donald Trump Campaign Rallies 2016 Photos