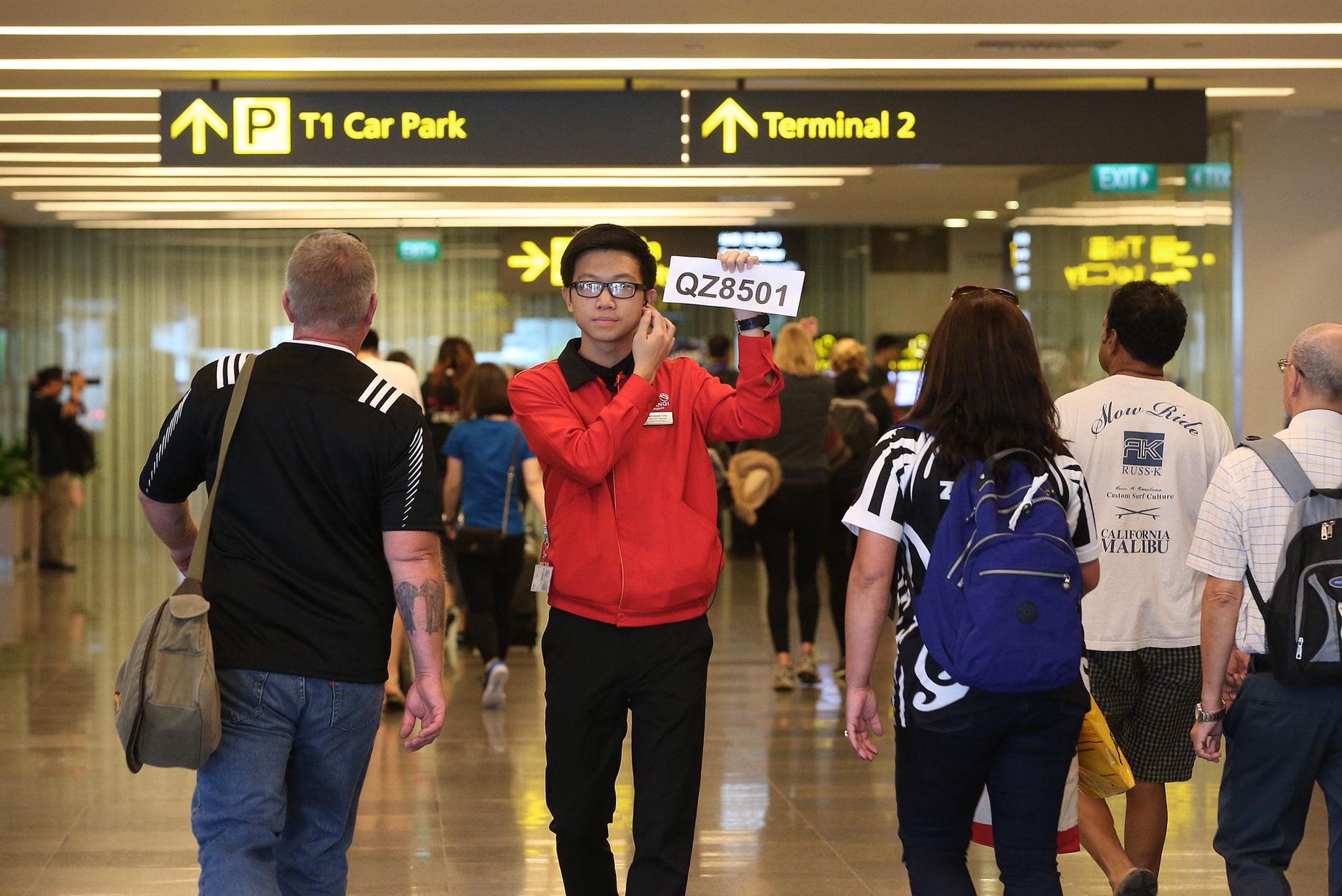 Updated on Dec 30th 2014
Late last night news broke that the debris field of AirAsia flight QZ8501 had been located, confirming the world's worst fears that the 162 souls on board had died. Helicopters and recovery vessels have rushed to the crash site with divers, but with little hope of recovering survivors. Family members waiting upon word of their loved ones erupted in grief and tears upon the terrible news, that apparently there were no survivors of the doomed flight. Efforts to locate the black box for the flight have already begun, the examination of which may lead investigators to learn more of the reasons for the flight's crash.
Earlier this week I had written….
In an aviation news moment which can only be referred to as sickening, chilling and utterly bizarre, another large commercial passenger jet flying over Indonesia in Asia has been reported missing, with some 162 persons on board. The plane was en route to Singapore and is registered as being Malaysian. AirAsia Flight QZ8501 went missing yesterday on 12.27.2014 and investigators are still trying to locate it. Turbulent weather and severe thunder storms were occurring in the airspace region where the plane disappeared and the pilot had requested a route change due to weather before the plane lost contact with air traffic controllers.
AirAsia Airbus Flight QZ8501 lost contact with air traffic approximately 14 hours ago at about 7:24 a.m 12.28.2014 Singapore time.  On the Air Asia FB page they have posted this notice: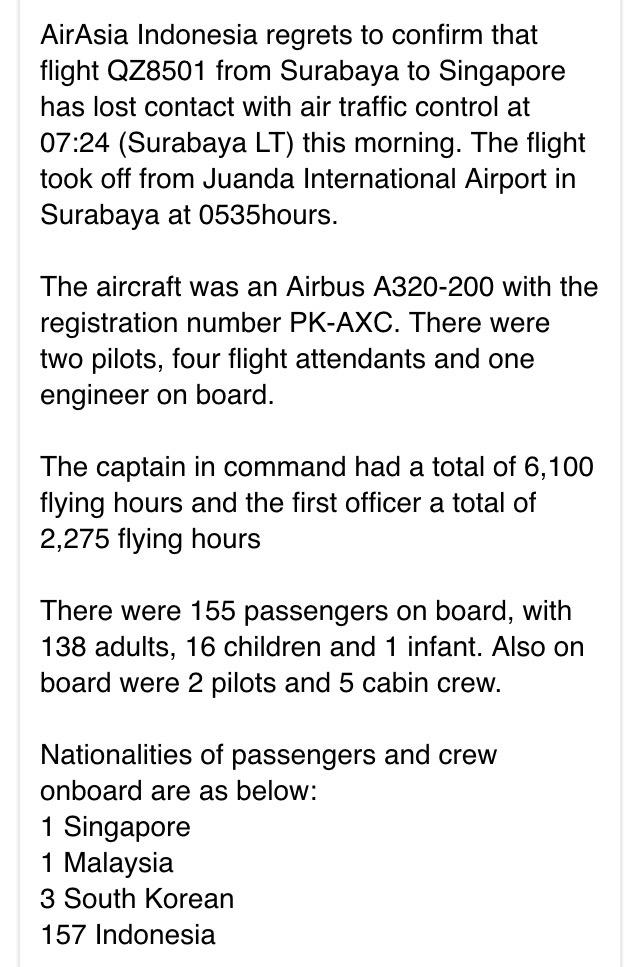 This is a copy of the plane's flight manifest, showing a list of passengers:
138 adults -16 children -1 baby -3 Koreans -1 Singaporean -1 Briton -1 Malaysian -157 Indonesian
For Twitter updates follow hashtag #AirAsia or click here:
https://twitter.com/hashtag/AirAsia?src=tren
You can also find more posted info on Twitter under hashtag #QZ8501 or click
https://twitter.com/hashtag/QZ8501?src=tren
Watch news coverage of this event from around the world via YouTube.
This story is still breaking and I will update it frequently as I learn more.
Re-posted from ABC News Online:
An AirAsia Airbus A320-200 has gone missing on a flight from Surabaya, Indonesia, to Singapore, according to the National Agency Search and Rescue Republic of Indonesia.
The plane, flight QZ8501, which reportedly had 162 people on board, lost contact at 7:24 a.m. local time near Belitung Island, Indonesia, according to a statement from AirAsia. It was scheduled to land in Singapore at 8:30 a.m. local time.
"At the present time we unfortunately have no further information regarding the status of the passengers and crew members on board, but we will keep all parties informed as more information becomes available," AirAsia said.
The aircraft was an Airbus A320-200 with the registration number PK-AXC.
Search and rescue operations were in progress, AirAsia said.
The plane lost communication with Indonesia's Surabaya airport 42 minutes after takeoff, when it was believed to be over the Java Sea between Kalimantan and Java islands, Hadi Mustofa, an official of the transportation ministry told Indonesia's MetroTV.
Mustofa said the plane had seven crew and 155 passengers.
The Civil Aviation Authority of Singapore said it was informed about the missing plane by Jakarta ground control about half an hour after contact was lost.
"Search and rescue operations have been activated by the Indonesian authorities," it said.
The Singapore air force and the navy also were activated with two C-130 ready to assist Indonesia authorities in the search, according to the aviation authority.
"We remain ready to provide any assistance to support the search and rescue effort, the CAAS said.
A waiting area was set up at Changi Airport in Singapore, where the plane had been scheduled to land, with facilities and support for relatives and friends of the passengers on the plane.
Developing story. More to come …
Get real-time updates as this story unfolds. To start, just "star" this story in ABC News' phone app. Download ABC News for iPhone here or ABC News for Android here. To be notified about our live weekend digital reports, tap here.
The website for Air Asia airlines is http://airasia.com
 More coverage:  https://www.youtube.com/watch?v=dgfqrxXD0b8&list=PL3ZQ5CpNulQlnc-EyvET23cxCQ85v5yBx