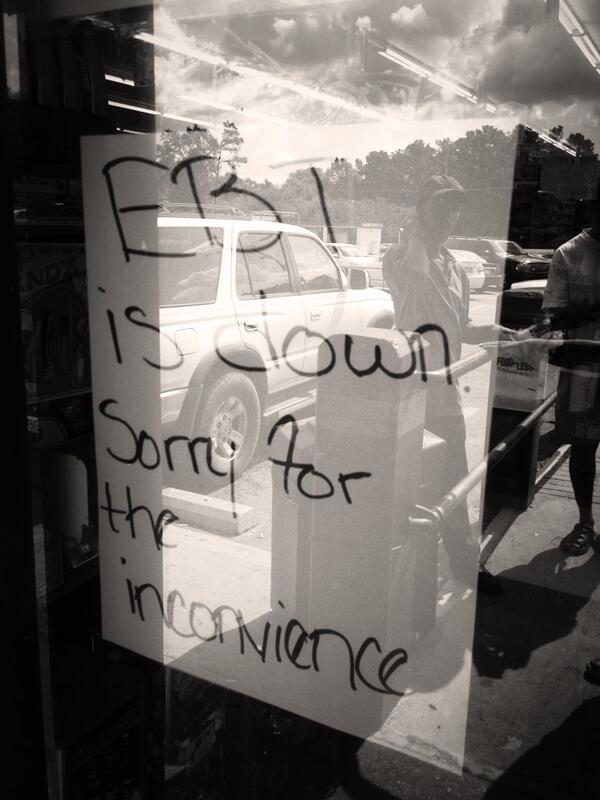 Updated every 15 minutes:
I see many folks freaking out, or tweeting about others who are freaking out, because their EBT cards do not work this morning. I am monitoring Twitter on this issue [ #EBT ] and I have seen three different "official" reasons reported via news media for why the system is down.  So it's actually anyone's guess.
@JoeTalkShow : 'Riot time!': Food stamp users in near-panic over EBT card failures | Twitchy http://t.co/KmVv5U3dQN This just got real. haha #EBT 6 minutes ago
'Riot time!': Food stamp users in near-panic over EBT card failures | Twitchy
Danger Will Robinson! …
I'm wondering whether this is actually just a "glitch" or a portent of things to come?  Oklahoma EBT has now gone down, as well as Ohio, Michigan, Virginia, and the city of Atlanta. I'll update the post again in just a few minutes.
Boston news media local CBS affiliate WBZ 1030 News Radio is now reporting that the EBT system is down nationwide today, due to a computer upgrade.
Tweets now report system down in Ohio, Mississippi, Georgia, Michigan, Oklahoma, Pennsylvania …
EBT Food Stamp System Going Down 10.12.2013 – Latest links:
http://www.news9.com/story/23675459/oklahoma-food-stamp-system-goes-down-saturday
Here's the report:
The Atlanta Journal-Constitution
The electronic system that allows welfare recipients to buy food with their benefits went down across the Atlanta area Saturday, according to local grocery stores.
Several news media reports say the Electronic Benefits Transfer system – which allows low-income people to spend their Supplemental Nutrition Assistant Program benefits with payment cards – was not working in Michigan and Virginia as well.
State and federal officials could not be reached for comment Saturday afternoon. But NBC4 in Washington, D.C., quoted a spokesperson for the Mississippi Department of Human Resources saying a Xerox facility that handles the card transactions had experienced a power outage. The outage caused the cards to be rejected, NBC4 reported.
"It is not just Kroger," said Kroger spokesman Glynn Jenkins. "In metro Atlanta, it doesn't matter what retailer you are – the system is down."
Publix also reported troubles Saturday.
"We are experiencing a problem processing EBT for Alabama– and Georgia-issued cards," Brenda Reid, a media and community relations manager for Publix Super Markets, said in an email. "Our information systems team is actively working to correct the problem."
See also http://twitchy.com/2013/10/12/riot-time-food-stamp-users-in-near-panic-over-ebt-card-failures/
As if all the above was not strange enough, WILD rumors abound online that other more dire consequences of not raising the debt ceiling are soon to befall retired and senior citizens in America. I personally do not believe any of these rumors are true, but the video below, replete with links to reported news stories, is an example of the internet rumor mongering I am finding this morning. Please take it all with a grain of salt. Actuality may not resemble any of what you see reported below, but people are getting pretty panicked up and restless during this FED shutdown.
Cited from YT user acct above:
President Obama said that if the Republicans don't cede to his will over the debt ceiling American retirees will not receive their Social Security checks. To use the sort of rhetoric he likes, he is holding these seniors hostage with a gun to their heads. Not only that, but he also let the cat out of the bag when it comes to the false notion that Democrats are the great protectors of Social Security.
"In a government shutdown, Social Security checks still go out on time. In an economic shutdown — if we don't raise the debt ceiling — they don't go out on time."
Obama's clear threat: If the Republicans do not raise the debt ceiling by October 19, retired Americans risk not getting their social security checks!
http://lonelyconservative.com/2013/10…
Obama's clear threat: If the Republicans do not raise the debt ceiling by October 19, retired Americans risk not getting their social security checks!
http://www.forbes.com/sites/paulroder…
CINCINNATI — Ohio food stamp and child support recipients are unable to use their cards to purchase anything because the Ohio Electronic Benefit Transfer system is down, an EBT staffer confirmed to 9 On Your Side on Saturday.
http://www.wcpo.com/news/local-news/o…
Lynchburg, VA – The Virginia EBT, or Electronic Benefit Transfer system has gone down across the entire area, according to customers and retailers throughout the ABC 13 Viewing area.
http://www.wset.com/story/23675340/vi…
The Atlanta Journal-Constitution
The electronic system that allows welfare recipients to buy food with their benefits went down across the Atlanta area Saturday, according to local grocery stores.
http://www.ajc.com/news/news/national…
Related articles